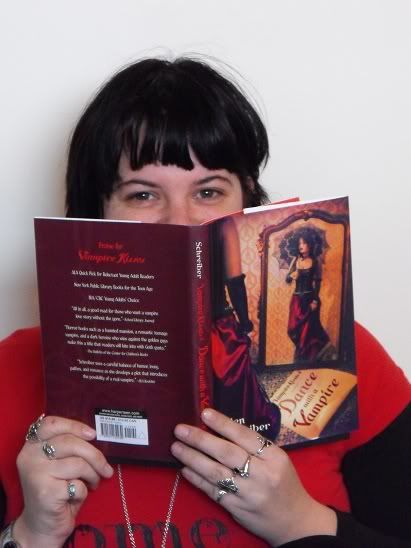 Hello,
So your reading my blog thank you for that!! Now a little moment to tell you something about me. It's always nice to know a little bit more about the person behind the blog.
Who am I?
Well I'm a 26 year old dutch girl, that loves to read books and reads most books in English. I have a lovely boyfriend who supports me in my addiction and is very patient with me every time I step into a bookstore.
I am the proud owner of two rats ( Contessa & Aprella ), an secret agent bunny ( agent B ) and a hamster named after the coolest vampire ever Lestat.
In my daily life I work with kids on a childrens daycaire center, I love my job and I don't think there is a better job out there! ( Besides being a writer! )
What do I read?
I have a lot op topics I love to read about, most of my books are in the YA genre. I love reading about Vampires, Shifters, Ghosts, Angels, Demons, Zombies and all other creatures. Besides my obsession with the supernatural I'm also a big fan of historical fiction, most of the books I read in this genre are set in Victorian England or the Tudor times. So yes I'm a big fan of the English history books.
What else do I do in my free time?
Besides reading, I love to listen to some music ( Emilie Autumn, HIM, The pretty reckless, etc. ) most of the music I listen to is in the alternative genre but I do like to listen to Lady Gaga too. I even went to her concerts and she rocks!
I love to watch movies, I'm a big horror movie fan! But I guess you could have guessed that if you see the list of books I read. But I'm a girl so a good girly movie works for me too! And Costume drama movies I love them and can't get enough of them!
I'm also a big fan of series, series I love to watch are:
- Supernatural
- Fringe
- Bones
- Criminal Minds
- The vampire diaires
- True blood
- Glee
and many more......
And of course as a lover of music I love to go to concerts, headbang all night and sing along with the lyrics. If I'm not doing one of these things above I'm probably hanging out with my friends or talking about books with my bookpartner in crime Kyanara.
So I guess that's it about me!