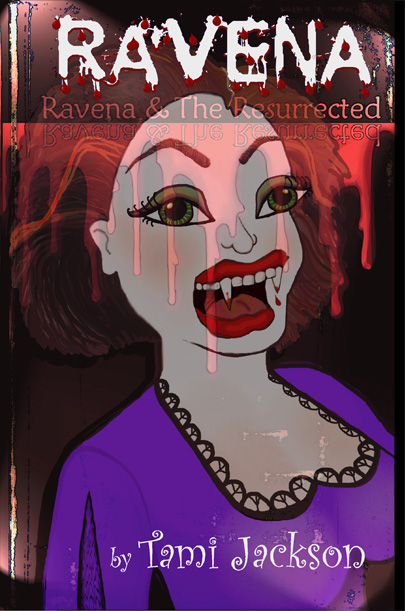 Titlle: Ravena & The resurrected
Author: Tami Jackson
Pages: 332
Catagory: Vampires
The story according to the book addict:
The book tells the story of Ravena, Ravena is a woman working at a library and secretly she wants to become a vampire. To her great surprise and horror ( the vampire turning her is not the beautiful one she dreamed about ) she is attacked and changed into a vampire.
From then on her adventure as a newly made vampire begins, she has to learn a lot about being a vampire. Being a vampire isn't what she thought it would be, she's still under the control of other people and there are still things out there that could kill her. Fortunaly she joins a clan of vampires that can teach her how to live her new live and help her survive. but her clan has a secret of it's own...... Raven has to find a way to deal with this and to deal with her special gift. The wolves tyring to help the vampires are in danger if she doesn't make the right decission.
Go to: Goodreads
The view of a book addict:
In the beginning I really liked the story, the fact that the main character wasn't just some beautiful girl really spoke to me. But as the story went on I found it kind of hard to find a storyline in the book and that's what I really missed. The dialogues in the book were very funny and I really liked the writing style.
But I really missed the story line, especially in the middle of the book. By the end of the book I finally understood were the book was going and I really wanted to know how it would end. So in my opinion it got better in the end and it became more exciting to read.
The verdict of a book addict:
To be honest I had a hard time getting through the book in the middle of the story, I loved the beginning and the ending so that made up a lot! If you want to read a diffrent book about vampires and you are not affraid to dive into a book that hasn't a straight storyline plotted out for you than this is your book! The main character is very funny and I think there is a lot more in store for her after this book.
Total of Ratties: