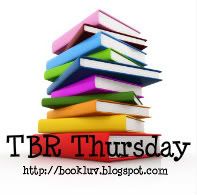 It's thursday again so time for another TBR thursday hosted by
Book Love Blog
. So here is my list for this week
I'm currently reading Once in a full moon by Ellen schreiber:
Beware of a kiss under the full moon. It will change your life forever.
Celeste Parker is used to hearing scary stories about werewolves—Legend's Run is famous for them. She's used to everything in the small town until Brandon Maddox moves to Legend's Run and Celeste finds herself immediately drawn to the handsome new student. But when, after an unnerving visit with a psychic, she encounters a pack of wolves and gorgeous, enigmatic Brandon, she must discover whether his transformation is more than legend or just a trick of the shadows in the moonlight.
Her best friends may never forgive her if she gives up her perfect boyfriend, Nash, for Brandon, who's from the wrong side of town. But she can't deny her attraction or the strong pull he has on her. Brandon may be Celeste's hero, or he may be the most dangerous creature she could encounter in the woods of Legend's Run.
Psychic predictions, generations-old secrets, a town divided, and the possibility of falling in love with a hot and heroic werewolf are the perfect formula for what happens . . . once in a full moon.
The next book on my TBR pile is Act of Redemption by C.C. Cole
The once-great city of Gastar now stands underpopulated and in ruins following centuries of war against an evil priesthood. Now a demon lord arrives with plans for annihilation of the people and plans to create a half-demon, half-human son to stay and rule after Gastar becomes an extension of hell. A trio of former soldiers arrive to help the people regain their battle skills and hope for victory. An unexpected ally arrives, the teen assassin Shevata, who participated in a rescue mission in hell to rescue living hostages. Upon her return to the human world, she was cursed by having her soul removed after killing an evil priest without a death order. Her presence gets the attention of the demon lord, as he knows her from the experience in the underworld as a powerful adversary. Shevata, the humans, a human traitor, the demon lord, his son, and Shevata's dragon mentor ignite the spark that drives this fast paced action story to its dramatic end with more to come
And the third book is Dark Heart Forever by Lee Monroe
Jane Jonas is nearing her 16th birthday and troubled by unsettling recurring dreams where the same mysterious boy her age comes to her, telling Jane that they are each other's destiny. Her mother is increasingly anxious about Jane's disruptive sleepwalking episodes, but for Jane her dream world and reality are about to collide ...When she develops a friendship with an enigmatic stranger in town, the blond, uber-cool Evan, it's exciting, it's new, and Jane wants him more than she's ever wanted anybody - until her mystery dream boy gets in the way. Now Jane is caught between two worlds: one familiar, but tinged with romance and excitement; the other dark and dangerous, where angels, werewolves, and an irresistible stranger are trying to seduce her ..
So that's it for this week, can't wait to see what everyone else is going to read!