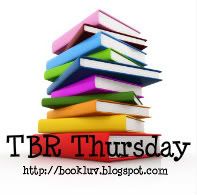 It's thursday again so time to share my TBR pile with you. TBR Thursday is hosted by
Book Love Blog
. I recieved a couple of books this week and I bought some books. I won't be reading them all this week that's jus impossible haha.
I recieved two books from netgalley this week:
The vampire Voss by Colleen Gleason
Regency London - a dizzying whirl of balls and young ladies pursued by charming men. But the Woodmore sisters are hunted by a more sinister breed: Lucifer's own. Voss, also known as Viscount Dewhurst, relishes the sensual pleasures immortality affords. A member of the Dracule - a cabal of powerful, secretive noblemen marked with a talisman that reveals their bartered souls - the mercenary Voss has remained carefully neutral...until Angelica. Angelica Woodmore possesses the Sight, an ability invaluable to both sides of a looming war among the Dracule. Her very scent envelops Voss in a scarlet fog of hunger - for her body and blood. But he is utterly unprepared for the new desire that overcomes him - to protect her.
Forever vampire by Michele Hauf
Vail the Unwanted is a pureblood vampire. But raised in Faery, he has neither home nor peace, and when his aid is sought in the recovery of a priceless diamond gown, his price is information. Specifically the whereabouts of his accursed father. His goal is revenge, and the supernaturally sexy Lyric, the icy blond vampiress with whom he must work, is a distraction he can't afford.

Outwardly as cold as the diamond dress in which she was kidnapped, Lyric has her own secrets. Desperate to break free from her criminal family, she aligns herself with the brooding Vail. Together they seek justice while each secretly works for freedom and a fresh start. For Lyric that means holding herself apart, even from the smoldering blue-eyed Vail. For Vail, it means a battle to the death for revenge—and for a temptress he can't deny
Book I recieved for reviewing:
Well I recieved this book last week already but forgot to put it on my lis:
An apple for Zoë by Thomas Amo
The City of San Francisco is locked in a grip of fear. A series of occult murders has led, Inspector Thomas James, to a crime scene similar to a murder committed 90 years ago in the once grand Aleris Hotel. A place where power barons of the early 20th Century engaged in witchcraft. And silent film stars indulged in the most wicked of sins.

A place where no one questions the black smoke the rises from the hotel's incinerators in the middle of the night
Book I've bought:
This side of the grave by Jeaniene Frost
Danger waits on both sides of the grave.
Half-vampire Cat Crawfield and her vampire husband Bones have fought for their lives, as well as for their relationship. But just when they've triumphed over the latest battle, Cat's new and unexpected abilities threaten to upset a long-standing balance . . .
With the mysterious disappearance of vampires, rumors abound that a species war is brewing. A zealot is inciting tensions between the vampires and ghouls, and if these two powerful groups clash, innocent mortals could become collateral damage. Now Cat and Bones are forced to seek help from a dangerous "ally"—the ghoul queen of New Orleans herself. But the price of her assistance may prove more treacherous than even the threat of a supernatural war . . . to say nothing of the repercussions Cat never imagined.
Darkest Mercy by Melissa Marr
The Summer King is missing; the Dark Court is bleeding; and a stranger walks the streets of Huntsdale, his presence signifying the deaths of powerful fey.
Aislinn tends to the Summer Court, searching for her absent king and yearning for Seth. Torn between his new queen and his old love, Keenan works from afar to strengthen his court against the coming war. Donia longs for fiery passion even as she coolly readies the Winter Court for battle. And Seth, sworn brother of the Dark King and heir to the High Queen, is about to make a mistake that could cost his life.
Love, despair, and betrayal ignite the Faery Courts, and in the final conflict, some will win . . . and some will lose everything.
The thrilling conclusion to Melissa Marr's New York Times bestselling Wicked Lovely series will leave readers breathless.
Afterlife by Claudia Gray
The fourth book in this electrifying vampire series has all the romance, suspense, and page-turning drama that have made Claudia Gray's Evernight books runaway successes.

Having become what they feared most, Bianca and Lucas face a terrifying new reality. They must return to Evernight Academy, Lucas as a vampire and Bianca as a wraith. But Lucas is haunted by demons, both personal and supernatural. Bianca must help him fight the evil inside him, combat the forces determined to drive them apart—and find the power to claim her destiny at last.

Readers have fallen in love with Bianca and Lucas, and they will be thrilled to read this exciting conclusion to their romantic adventure
So that's it for me this week!